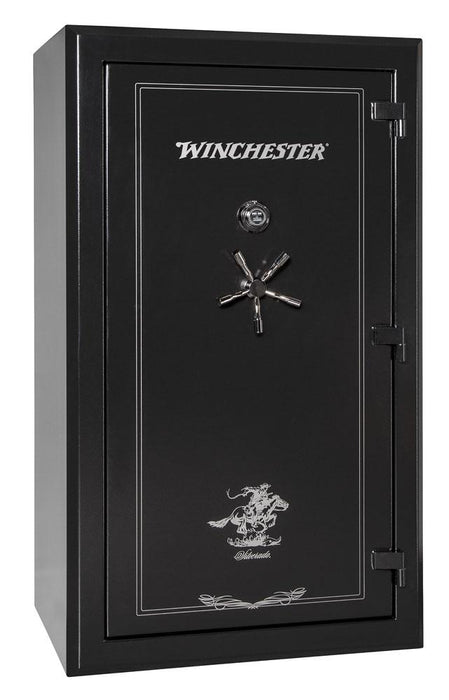 Winchester Safes | Silverado 51 | S-7242 | 51 Gun Safe
Description
Our friends over at Winchester have come up with the Silverado Premier series to provide all that and more.
With five layers of fireboard in the door, four layers in the body, four layers in the top and a double layer Paulosol heat expandable door seal this tank is rated to handle a 1400° fire for up to 2 hours!
This safe earned the RSC (Residential Security Container) burglary protection rating due to its 10 gauge steel body, drill resistant hard plate, Auxiliary relocker, pry-resistant recessed door, reinforced steel return door jamb, titanium disk and of course the 3-way, 18 Steel Locking Bolts, 1.5" in diameter each.
It also comes standard with external welded cast steel strap hinges and a door panel organizer allowing you to efficiently store 8 pistols, important documents and other small valuables without taking up valuable shelf space.
Fire Protection
Proven 2 Hour fire rating at 1400º F
Double layer Palusol® Heat expanding door seal expands to over 6x its size when subjected to heat, creating a barrier against heat and smoke
UL® rated fireboard protection in the ceiling, walls and door
External solid strap hinges allow full fire protection and remove vulnerability of internal hinges, which require holes and weak points in fireboard protection
Composite steel door with added layer of UL® rated fireboard protection behind the accessory door panel
Thermal-protective lining in zippered door pockets provide additional protection for sensitive documents
Lifetime Free Replacement Guarantee in the event of a fire
Burglary Protection
UL® Listed S&G mechanical lock with no vulnerable solenoid or key override feature
U.L. Listed for burglary protection, RSC
Exceeds California DOJ Requirements
Solid steel 10 ga. body formed with robotic continuous welds
Solid steel external strap hinges
Drill-resistant, heat-treated 1/4″ steel hard plate, 60-61 RC
Titanium disk
Auxiliary re-locker keeps active boltwork locked in place when under attack
(12) 1.5″ solid steel locking bolts: 6 dead locking and 12 active including top/bottom locking bolts for added pry resistance
Dead locking bolts on the hinge side of the door cannot be compromised in a burglary attack
Recessed door and reinforced steel return jambs thwart pry attacks
Anti-pry tabs
Pre-drilled for anchoring to floor, preventing tipping for pry leverage or removal of safe by thieves
Lifetime Free Replacement Guarantee in the event of a burglary attack
Dimensions
Exterior Dimensions - 72"(H) x 42"(W) x 29"(D)*
Interior Dimensions - 66.5"(H) x 36"(W) x 17"(D)
Volume - 50.8 cf
Weight - 1452 lbs
Add 1.5″ to depth for hardware.
Features
Durable powdercoated gunmetal, black or saddle brown finish
5-Spoke black chrome vault handle
Upgraded welted pindot interior
Bright white motion-sensing LED light kit
Power Docking System provides (2) 110v outlets and (2) USB pass-throughs
Features adjustable shelving system and easy-access barrel racks with auxiliary shelves for interior customization to fit your storage needs
Deluxe Door Panel Organizer provides quick access to handguns and safe storage of accessories, documents and more in thermal-protective, zippered pockets