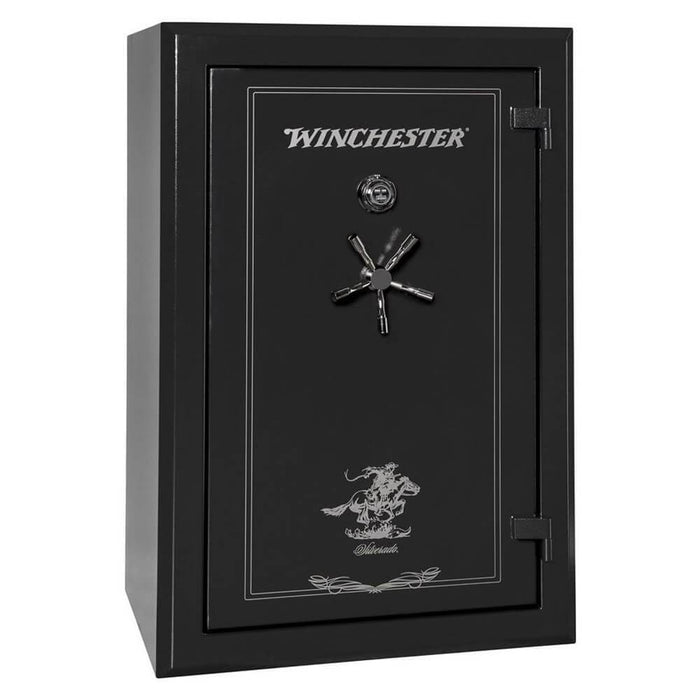 Winchester Safes | S-5940-E | Silverado 40 | 40 Gun Safe
Description
Our friends over at Winchester have come up with the Silverado Premier series to provide all that and more.
With five layers of fireboard in the door, four layers in the body, four layers in the top and a double layer Paulosol heat expandable door seal this tank is rated to handle a 1400° fire for up to 2 hours!
This safe earned the RSC (Residential Security Container) burglary protection rating due to its 10 gauge steel body, drill resistant hard plate, Auxiliary relocker, pry-resistant recessed door, reinforced steel return door jamb, titanium disk and of course the 3-way, 14 Steel Locking Bolts, 1.5" in diameter each.
It also comes standard with external welded cast steel strap hinges and a door panel organizer allowing you to efficiently store 8 pistols, important documents and other small valuables without taking up valuable shelf space.
This model in particular, the Silverado Premier 38 weighs 1188 lbs. and can store up to 48 long guns.
Winchester believes in and stands behind the craftsmanship and quality of the Silverado Premier series by offering a limited lifetime warranty against defects in materials and workmanship as well as a free replacement guarantee if your safe is ever damaged in a fire or burglary.
Features
2 Hour Fire Protection @ 1400&deg
UL Listed for Burglary Protection, RSC
UL Listed Lock
CA DOJ Approved
10 Gauge Steel Body Construction
Drill Resistant Hard Plate 60-61 Rc
Auxiliary Relocker
3-way Locking Bolt System with 14 Bolts, 1.5" in diameter
Pry-resistant recessed door
Reinforced steel return door jamb
Titanium Disk to Protect Lock
Dimensions

Exterior Dimensions: 60" H x 40" W x 29" D
Interior Dimensions: 55" H x 36" W x 19" D
Weight: 1188 lbs
Cubic ft: 40.3
Locking Bolts: 14
Pistol Pockets: 8
Long Gun Capacity: 48