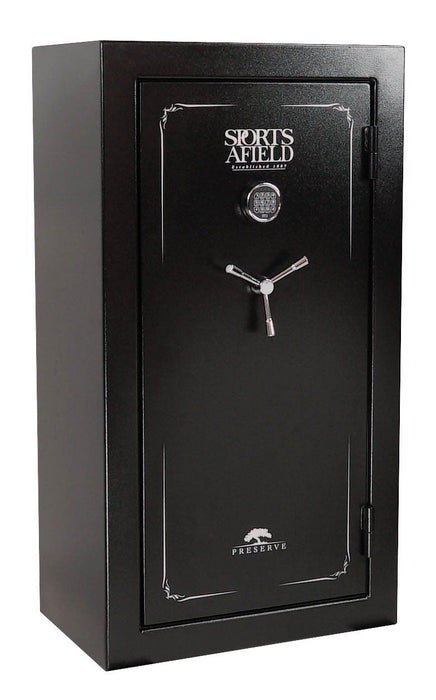 Sports Afield Preserve Gun Safe SA5932P
Description
Much like some  African wildlife rely on controlled and protected areas for their species survival, the Preserve series of safes takes protection to the next level by adding the essentials of security; fire, waterproofing and increased organization. The Preserve series focused approach to weapon and valuables protection provides not only safety but peace of mind.
Step into total protection with a safe that is the first in its class to offer heavy gauge steel, 1.5" locking bolts, a fire rating of an impressive 40 minutes at 1200oF, all while  including our proprietary Triple Seal keeping this safe waterproof up to 2ft for a full seven days giving you piece of mind that your precious valuables will be safe even after coming home from vacation to a flooded basement. Fully adjustable shelves and half U shaped / half rack style carpeted barrel rests ensure total customization. The full door organizer, fully carpeted shelves, Elock and UL rated outlet make this safe truly best in class at a price that will allow you to keep filling it.
Features
Fire protection for 40 mins at 1200°. Proven to maintain interior temperature of less than 350 degrees.

Water Proof for 7 days in up to 2′ of water.

Electronic lock – programmable with anti-theft alert.

Override keys included – allows dual entry into gun safe either via electronic lock or override key

California DOJ approved.

8 large 1.5" steel bolts.

Chrome 3 spoke handle.

Exterior dimensions: 59" H x 32" W x 20" D.

Weight – 422 lbs.

Triple Seal

Color: Black – Black Texture.
Specifications
Carpeted interior and sidewalls.

Standard Door Organizer maximizes storage space and offers quick access to commonly used items.

Single UL approved power-outlet.

Gun Capacity: 32 + 6.

Fully adjustable shelving.

One top shelf and three side shelves.

4 pre-cut anchor holes.
Dimensions
Exterior dimensions: 59" H x 32" W x 20" D.

Weight – 422 lbs.