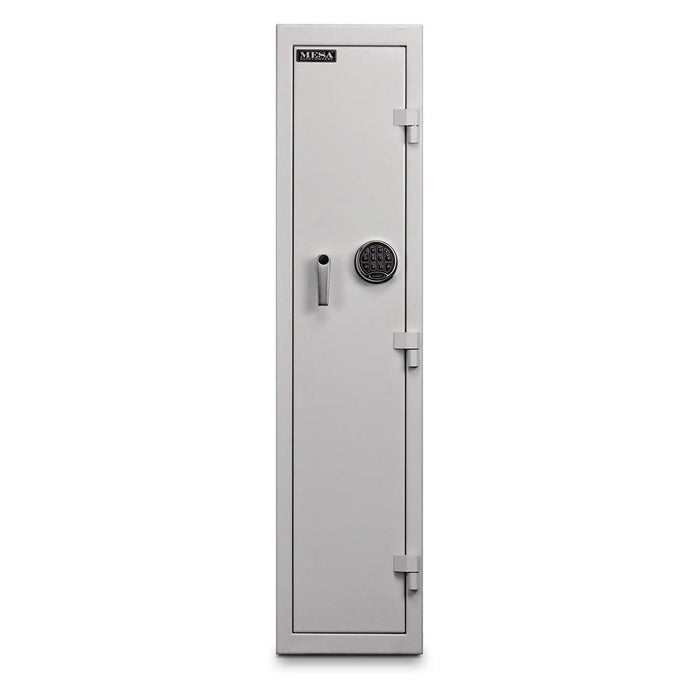 Mesa MRX2000E Pharmacy Safe
Mesa MRX2000E Pharmacy Safe
Description
The NEW Mesa MRX2000E pharmacy safe is the perfect unit to secure expensive and vital medications. The street value of narcotic drugs and prescriptions has gone up. It is important for any business who has these type of drugs to lock up and protect your inventory. New laws are coming into affect regarding the accessibility of these drugs, so it is a necessity to have something secure for your pharmaceutical drugs.
Mesa's MRX2000E offers a defense barrier with an 11-gauge heavy duty body and the door is held by commercial-grade tamper-proof hinges. The interior features (7) adjustable/removable shelves for organization and storage. The (5) five live locking bolts protect against pry attempts on the door. The SecuRAM digital lock is protected by a drill-resistant hardplate and punch-activated relocking system.
The MRX2000E is a slim model, perfect for locations with limited space. With a width of 14", it can fit in most places that a standard pharmacy safe cannot. Although it looks small from the outside, it still gives you 5 cubic feet of interior storage space. With the SecuRAM digital electronic lock, you can change your combination at any time.
With this slim pharmacy safe, you can protect your customer's prescriptions and medications, allowing them to remain safe and secure. This safe is ideal for both big and small pharmacies, veterinary hospitals or most medical facilities.
Features
All Steel Construction.
Body constructed of 11 Gauge steel.
High strength adjustable & removable shelving (7 shelves).
SecuRAM digital electronic lock. Protected by drill-resistant hardplate.
Heavy-duty deadbar prevents door removal during forced entry attempt.
Tamper-proof hinges for added security. Also provides easy & smooth door operation.
Five 3/4" diameter solid steel live locking bolts.
8 Pre-drilled anchor holes provided to secure safe to the floor.
7 adjustable/removeable shelves.
Dimensions
Outside: 60.00" H X 14.00" W X 10.75" D
Inside: 59.75" H X 13.75" W X 10.50" D
Interior Cubic Feet: 4.99
Weight:

 

161.00