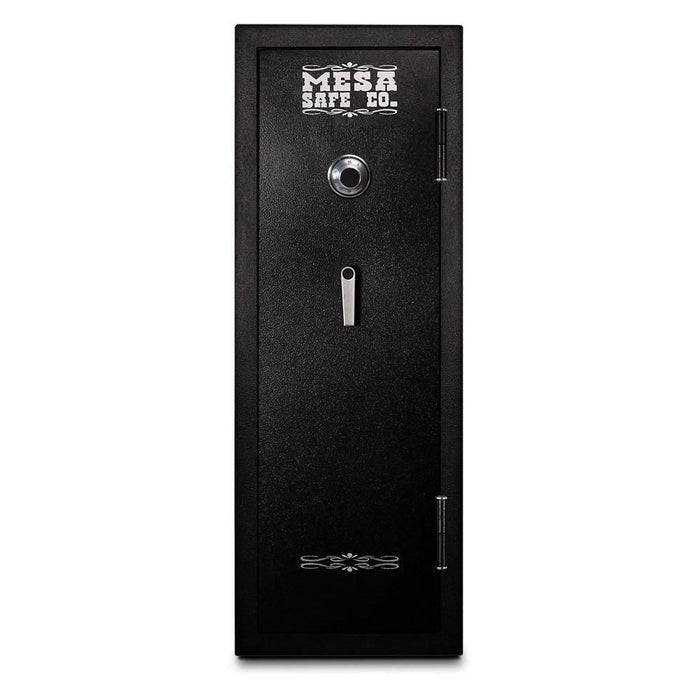 Mesa MGL14C Gun & Rifle Safe
Mesa MGL14C Gun & Rifle Safe
Description
The Mesa MGL14C Gun & Rifle Safe is a 30 Minute Fire Gun Lite Safe that helps protect your weapons and other valuables combining all the security features of a burglar safe and the peace of mind of a fire safe. This safe is constructed of all-steel and are specially designed for those who love to hunt, collect firearms as a hobby and to keep your firearms locked up and secured. Keep your weapons such as rifles, handguns, shotguns, knives, ammunition and other types of weapons securely locked up and prevent any accidents from unauthorized users such as children and others who don't know how to operate a firearm.  This safe will not only keep your guns organized but it will prevent burglary and help to protect your firearms from the hazards of a fire as well.  

The Mesa MGL14C Gun & Rifle Safe is made of all steel (no plastic) and has 12 gauge steel in the body and the door. There are also six (6) 3/4" diameter chrome plated locking bolts to prevent pry attacks on the door. Along with that is heavy-duty solid steel hinges. The lock and handle are protected by an additional layer of 1/8" steel to prevent drill attacks on the door and lock. It also features a 30 minute fire rating, tested at temperatures up to 1200 degrees F on the outside. There is also a heat activated seal around the door. Mesa Safe also performed a factory test where they dropped the safe 2 stories. This means that if your safe falls two stories into a basement during a fire, the door does not pop open introducing your contents to the heat.  There are two lock options on the MGL14C Gun & Rifle Safe. It comes standard with a digital electronic lock which is protected by a drill resistant hard plate & punch-activated relocking system. This lock features two user codes and your personal code can be changed at any time. One benefit on this gun safe is that there is a key override system in case the lock fails or you forget your combination.  The other option is a Group II UL listed mechanical dial combination lock for the same price. There are 4 pre-drilled anchor holes to bolt the MGL14C Gun & Rifle Safe to the floor. This is highly recommended. There is a limited Lifetime Warranty on this gun safe.
If you want a great safe at a great price The Mesa MGL14C Gun & Rifle Safe has all the best features without the huge price tag.
Features
Body & Door
All steel construction.
12 Gauge door and body.
Six 3/4" diameter chrome plated solid steel bolts.
Heavy-duty solid steel hinges.
Lock & handle protected by an additional layer of 1/8" steel.
2 story impact rating, factory tested.
Warranty
Limited Lifetime Warranty
Dimensions
Outside: 55.00" H X 20.00" W X 20.00" D (Add 3" for handle)
Inside: 52.75" H X 16.63" W X 18.88" D
Interior Cubic Feet: 9.58
Weight:

 

329.00

Fire Rating: 30 Minutes