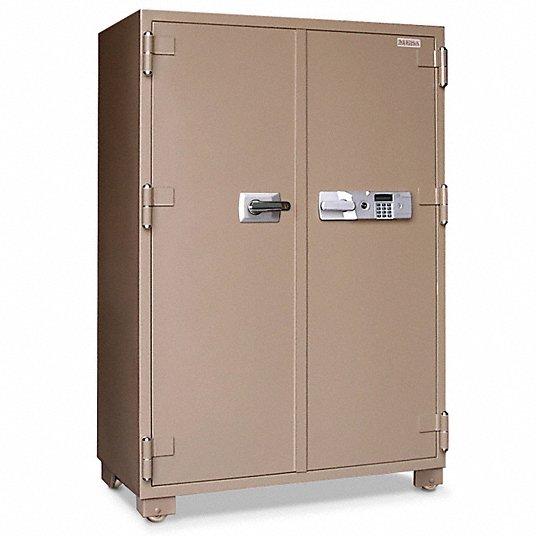 Mesa MFS170DDE 2 Hour Fire Safe
Description
MESA's MFS Series Fire Safes protect valuables from the effects of a fire or extreme heat. Keep your passport, birth certificate, deeds, insurance information or any other important documents and valuables safe from fires should the unthinkable happen.
The MFS Series fire safes are constructed out of all steel for durability and strength that can last a lifetime. The main purpose of the MFS series is to provide maximum protection against fires. These fire safes can withstand temperatures of up to 1,830 degrees Fahrenheit that features a two hour fire rating. In addition, they have been tested to endure a drop from a high distance and even reheated for quality assurance.
Our fire safes are the ideal security storage for the summer, especially for those who live in areas where potential wildfires are a constant danger. They also protect against theft and burglary. They feature an electronic lock that lets you manage the number of users to access the safe. The massive 1'' diameter live locking bolts reinforce the security safe and prevent door removal if the hinges are removed.
We have a variety of fire safes to choose from that come in different sizes that will satisfy all your storage needs. From storing files, documents, records, pictures, jewelry, cash, collectibles and more, our high strength adjustable and removable shelves can be arranged at your convenience. The smallest safe weighs in at 200 pounds all the way to 1,275 pounds for our larger double door safe. Start protecting your possessions and be prepared for any type of fire emergency.
Features
All Steel Construction
2 hour fire rating, tested in temperatures up to 1830°F
Body has an overall thickness of 3½" enclosing fire-resistant material
Interior key locking drawers for added security.
Battery operated Electronic Lock. Protected by an internal spring loaded relocking device
Massive 1" diameter live locking bolts
Doors have an overall thickness of 4" enclosing fire-resistant material
High strength adjustable/removable shelving
Bolt detent prevents damage to body & bolt-works
Heavy-duty casters for easy movement
Heavy-duty hinges
Specifications
Dimensions

Exterior:

 

67 1/2"H x 45 3/8"W x 25"D
Interior:

 

51 1/2"H x 38 1/2"W x 18"D

Interior Specs

Interior Space:

 

20.7 cu ft
Weight:

 

1275 lbs
Shelving:

 

3

Lock

Type:

 

Advanced Electronic Lock MSL-MFS1
Features:

​Wrong code penalty
Easily change your personal code
Audit Trail
1 manager & up to 4 user codes
Battery Operated [4AA Batteries Included]
Exterior key lock allows you to lock the handle, disabling user entry into the safe