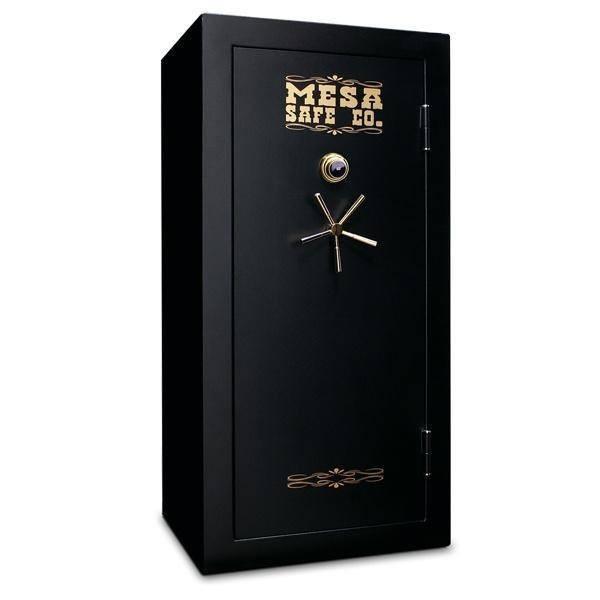 Mesa MBF7236C Gun & Rifle Safe
Mesa MBF7236C Gun and Rifle Safe
Description
Whether you already have a large gun collection or if you want to expand your gun collection and are in need of some extra space, the Mesa MBF7236C gun and rifle safe is a fantastic choice.  Not only does it have the large capacity to hold up to 42 guns, but it also comes with an outstanding fire rating of 1 hour.  Looking for a gun safe doesn't only mean protecting your guns against theft and the potential to get into the hands of criminals,  but it also is a security measure for children as well as a fire protection for your guns in the event of a fire.  There is also plenty of room inside of this gun safe to store accessories, ammo, hand guns, etc.  The Mesa MBF7236C is at a great price with features that are normally found in high end gun safes.  

The features of the Mesa MBF7236C gun and rifle safe include a 42 gun capacity along with a one hour rated fire safe tested at 1750 degrees - interior temperature did not exceed 350 degrees F and a dual layer firewall interior.  The door is 7 gauge, with an additional 11 gauge steel plate covering the lock and handle area. The body of this all steel safe is 12 gauge and the interior outlet strip includes 3 Electrical Sockets & 2 USB Ports. The massive 1-1/2" diameter solid steel live locking bolts add burglar protection and make it difficult to pry the door open.  Power source cord included.  There are four recessed anchor bolt holes used to securely anchor the safe. (anchors not included). The interior shelves, walls and door panel are fully upholstered and it includes high strength adjustable and removable shelves. Pocket door organizer installed at no additional charge.  This safe comes in a choice of a dial or an electronic lock.
The Mesa MBF7236C Gun and Rifle Safe is an ideal choice for gun owners or consumers concerned with securing long guns and rifles as well as having the benefit of protection from fire.  This safe's enhanced security features, extended fire protection and classic design make it an excellent value.
Features
All Steel Construction. Door - 7 gauge, with an additional interior 11 gauge steel plate covering the lock and handle area
12 gauge steel in body.

Interior outlet strip includes 3 Electrical Sockets & 2 USB Ports. Power source cord included

Pocket door organizer installed at no additional charge

The lock is also protected by a 3/16" drill resistant hard plate
1 HOUR FIRE RATING, tested in temperatures up to 1750 degrees F
Interior Shelving can be adjusted to meet your unique storage needs.
Interior shelves, walls and door panel FULLY UPHOLSTERED.
Massive 1" diameter solid steel LIVE LOCKING BOLTS for added burglar protection
Total of 14 ea. 1 1/2" bolts. 5 ea. dead bolts on hinge side. 5 ea. live bolts on latch side. 2 ea. on top and 2 ea. on bottom of door.
Four Anchor Holes provided to secure your safe to the floor
Massive 1" diameter solid steel deadbolts protect against during a forced entry attempt
STEEL BODY with an overall thickness of 1" enclosing fire resistant material
42 Gun Capacity
***LIFETIME WARRANTY OFFERED BY MESA SAFE COMPANY*** SEE ATTACHED PDF FILE ABOVE***
Dimensions
Outside: 71.00" H X 36.00" W X 24.00" D (Add 3" for handle)
Inside: 67.00" H X 32.25" W X 16.88" D
Interior Cubic Feet: 21.11
Weight:

 

865.00

Burglar Rating: CDOJ

 

Learn More
Fire Rating: 1 Hour