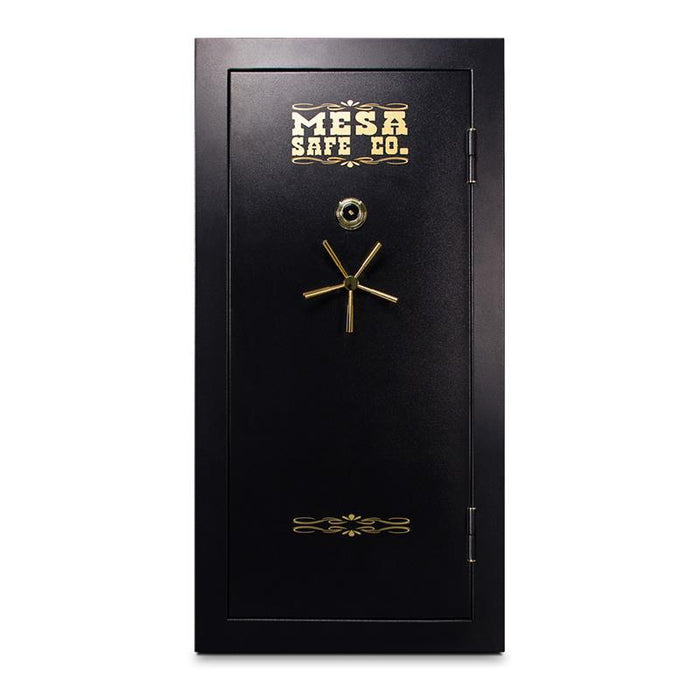 Mesa MBF7236C 1-HR 32-Gun Fire Safe - Combination Lock
Description

MESA's MBF Series Burglary and Fire Safes offer a unique design that combines all the security features of a burglary safe and the peace of mind achieved with a fire safe. The MBF Series safes are designed to protect all your valuable possessions against both theft and any fire emergency.

The MBF Series consists of four different types of models. Each model contains a 1-hour fire rating that has been tested under extreme temperatures to withstand a high degree of heat, ensuring that your contents inside your safe are intact and operable. Each safe weighs at least 500 pounds providing strength, durability and confident placement that will prevent your safe from being removed or stolen from its place. To add even more security, each safe contains four anchor holes to be able to secure your safe to the floor for permanent placement. The gun safes have interior shelving that can be adjusted or removed for your storage convenience. Each safe also contains different types of storage capabilities to organize any type of guns you have. Whether you need to store larger firearms such as rifles or shotguns or smaller weapons like knives and handguns, each safe has a nice organized storage system that will hold all types of weapons.

Other security features include an electronic lock that is protected by a punch activated spring-loaded relocking device. The massive diameter of the live locking bolts drives into the thick steel body of the safe that ensures the steel door is tightly shut. This protects against forced entry and attempting to break or pry open the safe. The safe is also lined with fire-resistant material that protects your contents in case of a fire emergency. The gun safes can also be used as your typical fire and burglary safe where it can be used to store all other miscellaneous valuables including jewelry, classified records, money, collectibles, photos and more. They provide all the storage and protection you need for both residential and commercial applications giving you all the benefits of one safe.
Features
All Steel Construction
1 hour fire rating, tested in temperatures up to 1750°F
Fully Upholstered Interior. High strength adjustable/removable shelves
High Strength Unitized 12 Gauge Body. 1 Hour Fire Rating up to 1750°F
Advanced electronic lock in classic brass finish. Protected by drill-resistant hardplate
Four anchor holes provided to secure your safe to the floor or counter
Heavy-duty steel hinges
Decorative 3-Spoke brass handle
5 ⅛" thick solid steel door lined with fire-resistant material with heat-activated seal
1 ½" Diameter Live Locking Bolts
Dimensions
Exterior: 71"H x 36"W x 24"D
Interior: 67"H x 32 1⁄4"W x 16 7⁄8"D
Additional Specifications
21.1 Cubic Feet
Weighs 882 lbs
4 Shelf
Electronic Lock Features
Low battery warning
Wrong code penalty
Lock activated by drill-resistant hard plate & punch-activated relocking system
Battery Operated [9V Battery Required; not included]
Concealed emergency key system
Easily change your personal code
2 User codes available

Additional Information

Weight

882 lbs

Interior Dimensions

67"H x 32 1⁄4"W x 16 7⁄8"D

Exterior Dimensions

71"H x 36"W x 24"D

Shelves

4


Cubic Feet

21.1
Lock Types


Advanced Electronic Lock MSL50




U.L. Listed Group II Combination Lock