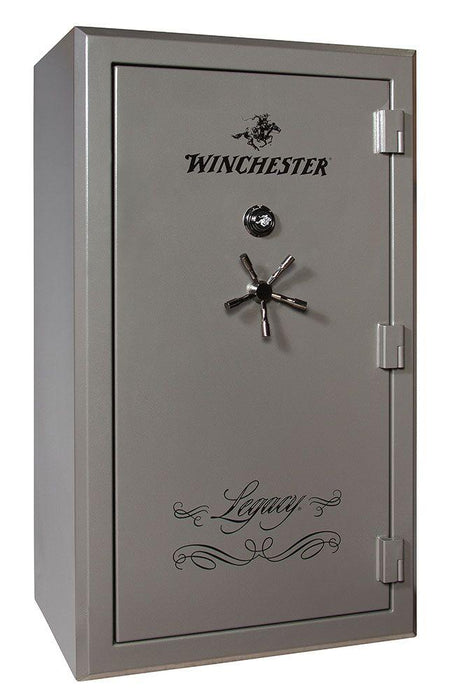 Winchester Safes | Legacy 53 | 53 Gun Safe
Description 
For those customers who want the biggest and the best, Winchester made the Legacy Premier just for you.
With a massive 2.5 hour fire rating at 1400°F, this tank features five layers of fireboard in the door, four layers in the body, four layers in the top, a double layer of Palusol heat expandable door seal and an upgraded composite door construction with 1/4" solid steel outer plate. With external vault style welded cast steel door hinges, you get full fireboard protection and 180° door swing!
When it comes to the burglary protection, it not only earned the UL RSC rating but goes above and beyond with the 10 gauge steel body, drill resistant hard plate, auxiliary relocker, pry-resistant recessed door, reinforced steel return door jamb, titanium disk lock protector and to top things off, 3-way 2" thick 18 solid steel locking bolts.
Our fully loaded Legacy 53 Winchester Safe is best-in-class beveled edge Legacy series includes an unrivaled set of features. A spacious re-configurable upgraded pin-dot fabric interior gives you unmatched storage space. Thicker auxiliary shelf covers quickly convert unused gun racks into extra shelf space, and shelving is capable of holding 70lbs. each. The included accessory door organizer gives you quick access to handgun pouches, mesh pockets to store small items within view and thermal protective pockets to further safeguard sensitive items from heat exposure, all within arm's reach. Each Legacy Series safe is outfitted with a bright LED light kit that helps with visibility inside your safe, and a Power Docking System that provides (2) 110v power outlets and (2) USB pass-throughs.
Specs
Exterior Dimensions: 72" H x 42" W x 30" D
Interior Dimensions: 66" H x 38" W x 19" D
Weight: 1616 lbs
External Cubic Capacity: 52.5
Locking Bolts: 18
Pistol Pockets: 8
Long Gun Capacity: 51
Burglary Rating: UL RSC Residential Security Container
Features
Fire Rated 2.5 hours at 1400°
UL Listed, La Gard Electronic Lock
CA DOJ Approved
10 Gauge Steel Body Construction
Drill Resistant Hard Plate 60-61 Rc
3-way Locking Bolt System with 18 Bolts, 2" in diameter
Pry-resistant recessed door
Reinforced steel return door jamb
Five Layers of Fireboard in the Door
Four Layers of Fireboard in the Body
Four Layers of Fireboard in the Top
Double Layer of Palusol heat expandable door seal
Massive Vault Style Welded External Cast Steel Door Hinge Allows 180° Door Swing
Beveled edge body construction
Power Docking System with two 110V Outlets, Ethernet and USB
Upgraded composite door construction with 1/4" solid steel outer plate
Door Panel Organizer
Thickest interior shelves with premium gray pindot fabric
Exterior Dimensions: 72" H x 42" W x 30" D
Interior Dimensions: 66" H x 38" W x 19" D
Weight: 1616 lbs
External Cubic Capacity: 52.5
Locking Bolts: 18
Pistol Pockets: 8
Long Gun Capacity: 51