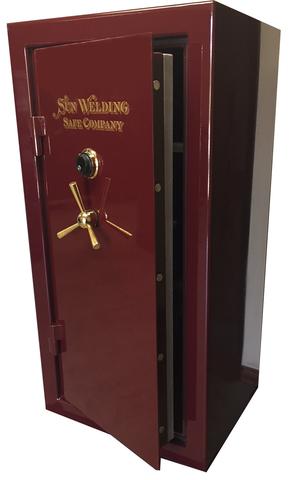 Sun Welding Customizable H54 Heirloom Gun Safe Series
Save

Liquid error (snippets/product-badge line 32): Computation results in '-Infinity'

%
The Heirloom Series offers a high quality safe at a competitive price.  Offering a solid 3/16" steel plate door and 12 gauge steel body.  The Heirloom series offers a Group II combination lock or Electronic lock.  The lock is protected by a 1/4" hard plate and 1/2" absorption plate, to resist from impact, drilling, or punch attacks.  In addition, the independent two way bolt works are protected by two spring loaded re-locking systems which lock the entire bolt works together. The two way bolt works offer five active bolts on the opening side and five dead bolts on the hinge side of the door.
The Heirloom Series also comes standard with fire insulation for protection rated at 1200_ for 30 minutes (up to 2 hours available).  The UL fire insulation protects all six interior surfaces.  The door is sealed with a heat expanding seal, swelling up to eight times it's size.
A fully adjustable interior is standard and available in several different options.  Designed to maximize your interior gun capacity while also providing the most shelving space available.
The finishing touch is the hand applied artwork. Exterior finish comes standard in matte gray with the option to upgrade to your choice of ten different gloss colors.
The Heirloom Series is the perfect safe for a home office or garage.
Made in America!
Sun Welding offers from a solid 3/16" to 1/2" door and 12 Gauge (7/64") to 3/16" body on the Heirloom Series. The door frame is made from a solid 3/16" frame for added security. Sun Welding doors won't flex like composite drywall doors. The door is recessed for additional security. In addition heat activated door seal that swells up to 7 times it's size to help seal out smoke and heat. The bodies are continuously welded.
AMERICAN MADE
Sun Welding has been manufacturing safes in Southern California since 1980. NEVER imported. Always providing American made manufacturing. The only parts we do not make are the locks and the handles.

EXTERIOR HINGES
Sun Welding offers heavy duty exterior hinge set with a full 180_ swing door. Allowing the door to be removable for transportation.
LIFETIME WARRANTY

Sun Welding's warranty covers fire, theft, and burglary.  We also offer extended warranties on locks and entry.
EXTERIOR FINISH

Sun Welding's gloss paint in a variety of color finishes is hand painted and finished with hand applied logos. Logos available in chrome, gold, or black.  Standard with a single drop handle (adds 1.5" to depth), a finishing touch. > SEE 
'OPTIONS' 
TAB
INTERIOR FINISH

Sun Welding lines the six interior walls with 5/8" fire board. See our fire 'Fire Rating' tab for more information. Then we hand build each interior from solid 3/4" particle board. It is then finished a velour fabric (variety of colors to choose from). With one rifle configurations to choose or a solid collector shelf interior we have the interior for you.  We can also custom build an interior made to your specifications.  See 'Interiors' tab to view our interior options.  There are six pre-drilled mounting holes in the bottom of every safe for bolting the safe down to the floor. > SEE 'INTERIORS' TAB


BOLT WORKS & LINKAGE

Sun Welding's independent mounted bolting system stops a wide variety of attacks. Using a cam drive system to gear the linkage these parts will not break under pressure. The Heirloom Series offers six 1" diameter locking bolts (3 active each side, 3 dead hinge side).  With two re-lockers, protected by Armor Hard Plate and second 1/2" steel plate the security is reinforced.


GROUP 2 COMBINATION OR ELECTRONIC LOCK

Sun Welding gives the user the option of a UL listed group 2 combination mechanical lock or electronic lock. We offer a wide variety of manufactures from BigRed, S&G, LaGard, and SecuRam.  In addition to EMP proof redundant style locks. > SEE 'OPTIONS' TAB


EXCEEDS UL RSC AND DOJ REQUIREMENTS

Every Sun Welding Safe exceeds the UL RSC and CA DOJ requirements. We tested out entry level safes to ensure the test requirements.

FIRE RATING
The fire insulation is used on all six sides of the safe.  In addition heat sensitive expanding fire seal that swells up to eight times its size is used to fill in the space around the door.  The fire rating test is completed by taking a safe and placing it in an oven that is 1200_ for 'x' minutes.  At 'x' minutes the internal temperature of the safe reaches 350_.  The actual burn time of the safe has many factors such as temperature of the fire and length of the fire.

_ 30 Minutes Standard weighs 430 lbs
    _ Internal dimensions approximately 52.5"H x 22"W x 18"D
_ 60 Minute increases weight to 475 lbs
    _ Internal dimensions approximately 51.25"H x 20.75"W x 16.5"D
_ 90 Minute increases weight to 520 lbs
    _ Internal dimensions approximately 50"H x 17.5"W x 15.25"D 
_ 120 Minute increases weight to 565 lbs
    _ Internal dimensions approximately 48.75"H x 18.25"W x 14.25"D