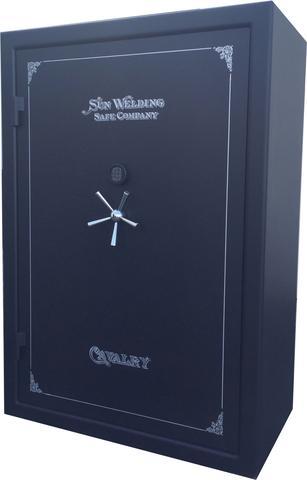 Sun Welding Customizable C4028T Cavalry Gun Safe Series
Save

Liquid error (snippets/product-badge line 32): Computation results in '-Infinity'

%
Sun Welding C4028T Cavalry Gun Safe
The Cavalry Series is one of Sun Welding's premier line, offering the best in home security. It's solid 3/8" steel plate door and solid 3/16" body is one of the most superior in the industry.  Offering a Group II combination lock or Electronic lock.  The lock is protected by a 1/4" hard plate plus 1/2" absorption plate, to resist from impact, drilling, or punch attacks.  In addition, the independent bolt works are protected by two spring loaded re-locking systems which lock the entire bolt works together.

The Cavalry also comes standard with fire insulation for protection rated at 1200_ for 30 minutes (up to 2 hours available).  The UL fire insulation protects all six interior surfaces.  The door is sealed with a heat expanding seal, swelling up to eight times it's size.

A fully adjustable interior is standard and available in several different options.  Designed to maximize your interior gun capacity while also providing the most shelving space available.

The finishing touch is the hand applied artwork. Exterior finish comes in your choice of ten different colors.

The Calvary offers the ultimate in protection and strength for your valuables and firearms.

Made in America!
Why Sun Welding Safes? Click Here 
Sun Welding is one of the true, constant, American Made gun and fire safe manufactures in the USA. Family owned and operated for over 35 years in Ventura County, CA. Every safe built by Sun Welding is 100% hand built and assembled with American parts as much as possible. Sun Welding began before 1980 while the owner was working as a welder. When his home was burglarized, he decided he wanted to build a safe for security and storage. After the first safe was built many of his family and friends wanted safes and the rest was history. The first safe built is shown on display in the showroom, come check it out!

Sun Welding is known for it's American built craftsmanship and factory direct discounts. We feel you should have the quality of a high end safe without paying high name brand pricing. Sun Welding sell's direct to the public and also have relationships with businesses across the US.

Sun Welding believes that quality safes should last for generations and that is why we stand behind our product. Sun Welding safes are made from solid steel doors (no drywall composite doors) and continuous (not skip welded) steel welded bodies. As you may be able to find a cheaper safe elsewhere you will not get the American built craftsmanship that goes behind each Sun Welding safe. Every Sun Welding safe comes with a lifetime warranty. After you are done searching online, contact Sun Welding for both a safe of good quality and good price. We offer expert advise on finding your perfect safe. Our friendly staff will be able to help you choose the safe that is right for you.
How the Safes are Built:

About the Door: Sun Welding try's to use American parts as much as possible. The door in every Sun Welding uses a cam drive system. Sun Welding's doors are 3" thick and are all removable. We use a solid steel plate door ranging from 3/16" to 1/2" standard and are known for custom thicker doors. Exterior heavy duty hinges allow the door to open over 180 degrees and are removable to assist with moving. The linkage in the door is supported by one of the strongest frames in the industry, a 3/16" frame on every model, regardless of the door thickness. Many manufactures use 12 gauge or the same thickness as the body for the frame on the safe. Every bolt pin on a Sun Welding safe is individually mounted and connected to a linkage system for smooth operation. Many manufactures bolt pins are connected to a linkage rod that operates all as one part. Pressure applied to one pin will directly effect the remaining pins on that rod.
FIRE RATING

The fire test was performed with a safe being placed in an oven that was 1200_.  At 'x' minutes the internal temperature of the safe reached 350_.  The overall burn time of a safe in a fire depends on many different factors such as the temperature of the fire and the length of time the fire burns around the safe. The safe door also includes a smoke seal around the door to prevent smoke from entering the safe. 

_ 30 Minutes Standard weighs 1220 lbs
    _ Internal dimensions approximately 70.5"H x 38"W x 21.5"D
_ 60 Minute increases weight to 1340 lbs
    _ Internal dimensions approximately 69.25"H x 36.75"W x 20.25"D
_ 90 Minute increases weight to 1460 lbs
    _ Internal dimensions approximately 68"H x 35.5"W x 19"D
_ 120 Minute increases weight to 1580 lbs
    _ Internal dimensions approximately 66.75"H x 34.25"W x 17.75"D
Dimensions
Outside: 72.00" H X 36.00" W X 28.00" D (Add 3" for handle)
Inside: 70.50" H X 34.00" W X 21.50" D
Interior Cubic Feet: 29.82
Weight:

 

1144.00

Burglar Rating: CDOJ
30 Minutes Standard weighs 1144 lbs

Internal dimensions approximately 70.5"H x 34"W x 21.5"D

60 Minute increases weight to 1259 lbs

Internal dimensions approximately 69.25"H x 32.75"W x 20.25"D

90 Minute increases weight to 1374 lbs

Internal dimensions approximately 68"H x 31.5"W x 19"D

120 Minute increases weight to 1489 lbs

Internal dimensions approximately 66.75"H x 30.25"W x 17.25"D
Features
Standard Cavalry Gun Safe Features:

Lifetime Warranty
Made in the U.S.A.
Exceeds D.O.J Specifications
Door Features:

Solid steel door

3/16"

" thick
180 degree opening heavy duty hinges
U.L. listed S & G Group II Combination Lock
Two re-lockers
Bolt blocker to prevent paint damage
Heat activated Palusol door seal
Exterior Features:

3/16" Solid steel body
Gold or Chrome finish 5 spoke handle (adds additional 3" to depth of safe)
Gold or black S & G dial with day key
Durable polyurethane paint in a variety of colors
Gold, Chrome or Black Cavalry logos
Interior Features:

Fully adjustable gray velour interior
Standard 1 x 1 fire protection 1200 degrees for 30 minutes (60 minutes, 90 minutes and 120 minute upgradeable)
Fabric lined interior walls
Two pre-drilled mounting holes