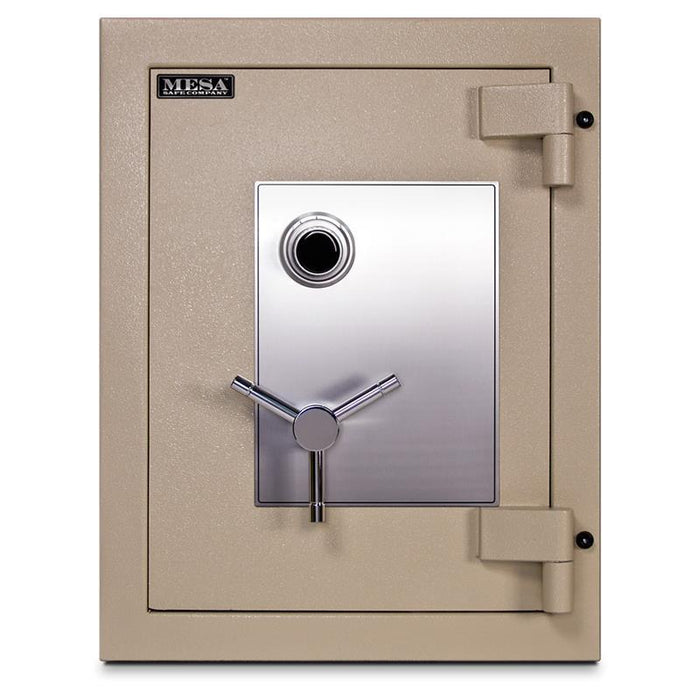 Description

Mesa TL Safe has the ability to withstand severe attacks by experienced U.L. experts using powerful tool such as sledgehammers, power saws, carbide disc cutters, drills, etc., and without fail, were awarded the U.L. TL-15 and TL-30 labels. Besides withstanding the most concentrated attacks by sophisticated burglars, each Mesa TL Safe offers a 2 Hour, 350°F factory rating, ensuring the protection of the vault's contents against intense fires.

The door is constructed with a 2-3/4" defense barrier of outer and inner steel plates creating a single structure enclosing a unique, high-density fire and burglary resistant composite material. The defense barrier houses a propriety amalgamation of nuggets and steel fibers to withstand concentrated attacks with the most sophisticated equipment used by burglars today A massive 1-1/2" diameter chrome plated solid steel locking bolts, each bolt moves deep into the body's protected bolt chambers. The safe is equipped with heavy-duty solid steel hinges.

The Mesa TL-30 offers a massive solid steel hard plate covering the entire body.

The formed body has a total protective thickness of 3-1/2" enclosing a high-density fire resistant composite material with nuggets and steel fibers. The reinforced drill resistant doorframe protects the door and each individual bolt chamber from severe side attacks.

The safe features high strength adjustable shelves and a U.L. listed group 2 combination lock. A massive drill shattering hard plate and 2 punch-activated relocking systems protect the lock.

The safes have a 2 hour, 350°F factory fire rating and have been tested in temperatures up to 1850°F.
Features


All Steel Construction
U.L. Listed Burglary & Fire Protection  U.L. Listed burglary protection 30 [min]
U.L. Rated 2 Hour Fire  U.L. Rated Class 350°F factory 2 hour fire rating, tested in temperatures up to 1825°F
High Strength Shelving  High strength adjustable & removable shelving.
High Strength Fire-Rated Body  3 ½" thick body enclosing high-density fire-resistant material
Spy-Proof U.L. Listed Group II Combo Lock  Spy-Proof U.L. Listed Group II combination lock. Protected by drill-resistant hardplate.
Heavy-Duty Steel Hinges  Heavy-duty steel hinges for added security. Also provides easy & smooth door operation
Decorative Handle  Decorative satin-chrome 3-Spoke handle backed by a satin-chrome face plate
Heavy-Duty Door  2 ¾" thick door consists of a defense barrier of plates enclosing fire resistant material
Solid Steel Bolts  Massive 1 ½" diameter solid steel live locking bolts


Dimensions


Exterior: 32"H x 25"W x 25 1⁄2"D
Interior: 25"H x 18"W x 16"D


Additional Specifications


Cubic Feet: 4.2
Weighs: 1195 lbs
Shelves: 1


Lock Features


Lock protected by a drill-resistant hard plate & punch activated relocking system