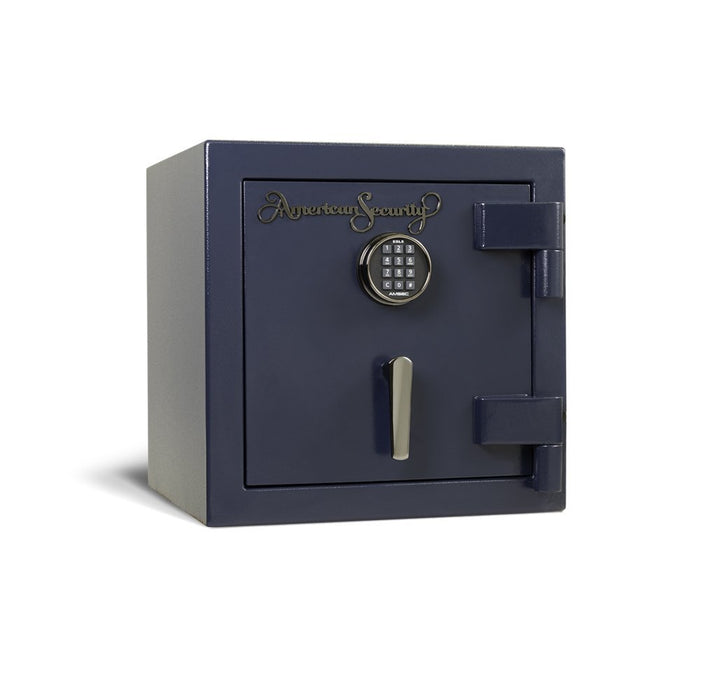 American Security AM2020E5 SAFE 20X20X20 45 Minute Fire Rating
Description
The Amsec AM2020E5 home safe offers an unbeatable value with a 45 minute fire rating and 12-gauge steel body. The three way bolt work featuring 6 solid steel locking bolts makes this the perfect home safe protecting against fire and theft.
New for 2017 models, the AM series features a black chrome lock, handle and American security logo with a gray fabric interior. These safes are attractive with their deep blue powder-coated finish.
Amsec believes in the AM series by offering a 1 year parts and labor warranty.
Specifications
External Dimensions: 20"h x 20"w x 20"d
Internal Dimensions: 17" H X 18-1/4" W X 14-1/2" D
Weight: 180lbs.
45 Minute Fire Rating at 1200° F
Burglary Rating: CA DOJ
1 Year Warranty
Features
Deep blue textured finish with black nickel hardware.
Gray fabric interior including back-cover and firewalls.
Every AM Series safe comes standard with AMSEC's ESL5 Electronic Lock with illuminated keypad, protected by drill-resistant hard plate.
Adjustable ball bearing hinges.
High-strength unitized 12 ga. solid steel body.
Massive 1¹⁄8″ recessed door constructed of a ¼" solid steel plate and a fire insulating material.
3-way boltwork with 4 active 1¼" diameter chrome-plated steel locking bolts.
4 pre-cut anchor holes with mounting hardware included.
Fire protection of 1200°F for a period of 45 minutes. Designed to maintain an interior temperature of less than 350°F.
Warranty: 1 Year Parts and Labor