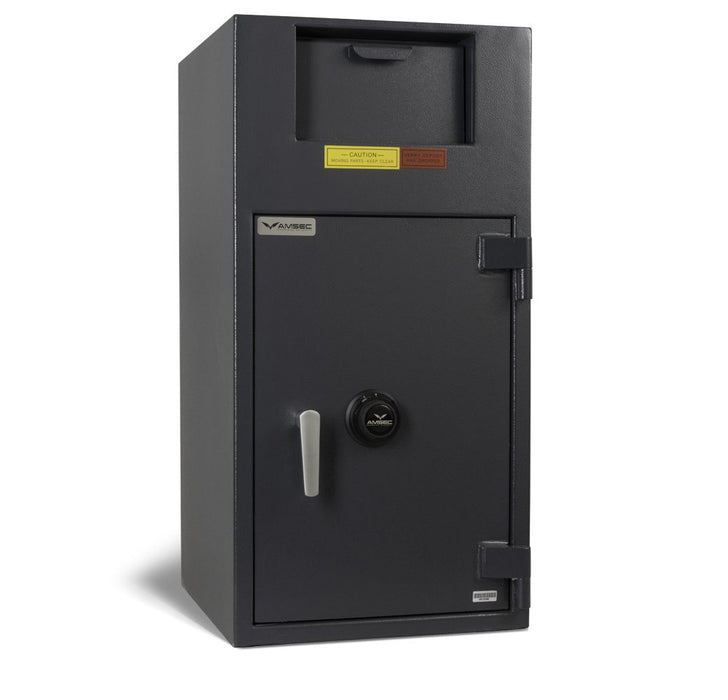 BWB3020FL American Security Front Load Drop Safe
Description
The Amsec BWB3020FL depository safe is used anywhere you need to have employees drop cash deposits and a place to store change. Amsec BWB3020FL drop safes are designed to offer complete cash management versatility with a wide selection of options, such as a top, front or rear load depository, one to three deposit slots or a pull-out deposit drawer. This model features the front load depository drop with anti-fish baffle.

In terms of security the BWB series is B-Rated with its 1/2" thick solid steel recessed door designed to provide excellent protection against pry attacks. The door jamb construction is formed of high-tensile steel and the internal jambs are reinforced on all four sides to provide protection against sledgehammer attacks. The 3-way locking mechanism consists of five massive 1" solid steel chromed locking bolts. Once the bolts are retracted, a bolt detent system keeps the bolts retracted until the door is in the shut position when they automatically engage.

On the door lies a UL Rated Mechanical Lock standard or you can upgrade to a UL Rated Electronic Lock. The lock is also protected by a large carburized hard plate that provides security against drill attacks. If the burglar is able to successfully drill through the hard plate, the security is enhanced with an auxiliary spring-loaded relocker that secures the bolts in the closed position when severely attacked.

Once inside the door, you'll find an interior locker constructed of heavy 1/4" steel with a single-key camlock with two keys. Beneath that is a convenient, door-mounted, recessed coin rack that makes storing money easier than ever.

The depository door is a recessed heavy duty 1/8" door protected by dual anti-fish baffles and a maximum capacity of: 4" x 9" x 11-1/2".

IMPORTANT: Amsec's drop safes are recommended for any operation that requires a non-returnable deposit such as armored car companies, convenience stores, restaurants, etc. The top locker is not meant for overnight storage of cash or valuables.

*Rear facing Hopper - Special Order with Extended Handling Time
Specifications
| | |
| --- | --- |
| Weight | 278 lbs |
| Inside Dimensions | 19"H x 19.75"W x 17"D |
| Outside Dimensions | 39.75"H4 x 20"W x 20"D |
| Clear Door | 24.75"H4 x 21.25"W |
| Cubic Inches | 6,380 |
| Shelves | 2 |
Features
BWB Series – Wide Body Standard Features
The best warranty in the business, one year parts and labor.
3-way locking mechanism consisting of five 1″ diameter chromed steel locking bolts
Locks and relocks protected by a large carburized hardplate.
Auxiliary spring-loaded relocking devices.
Convenient, door-mounted, recessed coin rack

Door:

Massive ½" thick A36 solid steel plate.
Bolt detent system engages boltwork automatically
U.L. listed Group II, key changeable combination lock standard on safe
Interior Locker:

Heavy 1/4″ steel door, and single-key camlock with two keys.
Inside dimensions: 8-5/8″ x 24¾" x 19″/td>
Large clear door opening: 6″ x 12″
Front Load Depository:
Recessed heavy duty 1/8″ construction with 1/8″ door
Protected by dual "anti-fish baffles."
Large package capacity: 4″ x 9″ x 11½" (maximum).

Body:

Formed high tensile steel body and jamb construction to maximize protection against pry attack
Reinforced internal jambs on all four sides to provide protection against sledgehammer attack