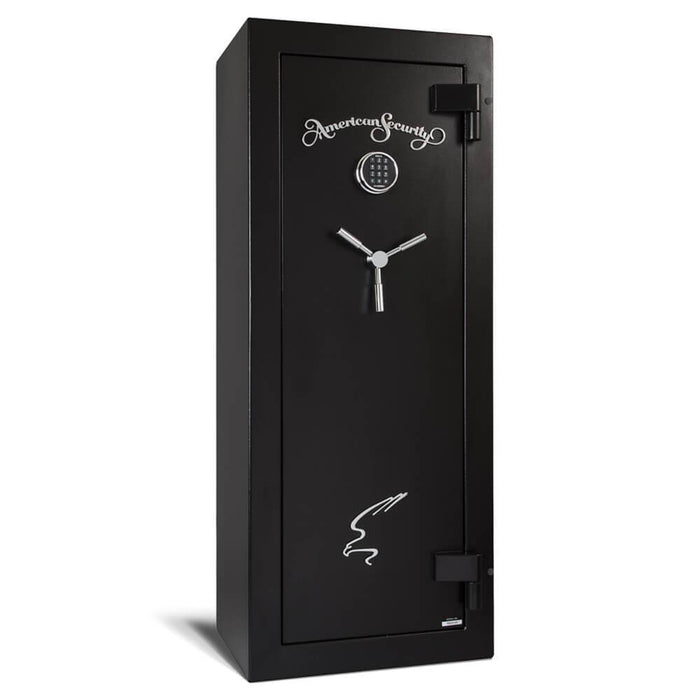 American Security TF5924 MATTE BLACK - E-LOCK Gun Safe
Description
The American Security TF Series provides all that and a bit more with a 3/16" steel plate door and 2 layers of fire insulating material. Match that with the 14-gauge body and additional fire insulating material and you have yourself a fire rated gun safe of 30 minutes at 1200°. Don't forget about the 2 stage dual fire seal with Palusol expandable door seal and silicone seal on door jamb to help keep the smoke out as well.

Standard on the TF line is AMSEC's ESL5 electronic lock with illuminated keypad that makes getting into your safe at night a breeze! For those worried about electronic failure, an optional group II combination lock is also available for retrofit.

The drill resistant hardplate with external spring-loaded re-locking device provide additional security & with a slip clutch feature on the handle, break-in attempters will be prevented from using excessive torque to retract the bolts.

Once you get the right combo squared away, the Black Nickel "L" handle will begin to retract the 4-way (5) 1" chrome-plated locking bolts and once inside, you'll notice the additional 3 deadbolts bringing our total to 8 total locking bolts.

The textured black finish and plush gray fabric interior provide a look to match the quality of the safe. The included premium door organizer maximizes storage space and offers quick access to your handguns, passports, important documents and other small valuables.

With four pre-cut anchor holes and mounting hardware included, you'll have not problem securing this safe and with American Security's 1 year parts & labor warranty, you can feel safe knowing your valuables are locked inside.
Dimensions
59" H x 24" W x 18" D
Specifications
External Dimensions: 59" H x 24" W x 18" D
Add 2" to Depth for Lock and Handle
8-8-16 + 1 Gun = 17 Total Capacity
Weight: 388 lbs
Fire Rating: 30 Minutes at 1200°
Burglary Rating: CA DOJ Approved Firearm Safety Device
1 Year Parts and Labor Warranty
Lifetime Warranty Against Theft and Fire
Features
SECURITY

¼"-Thick Steel Plate Door
Four-Way Bolt Work
11-Gauge Steel Body
UL Residential Security Container Burglary Classification
14 massive 1½" Chrome Plated Bolts
4 Pre-Cut Anchor Holes

FIRE PROTECTION

Lined with Three Layers of Drywall
90-Minute Intertek Verified Fire Rating
Dual Door Seals to Protect Against Fire and Smoke

FUNCTIONALITY

Industry's Most Flexible Interior
Door Organizer
Storage for Two Long Guns or Assault Rifles on Door
Mirrored Back for Added Interior Visibility
AC Power Outlet