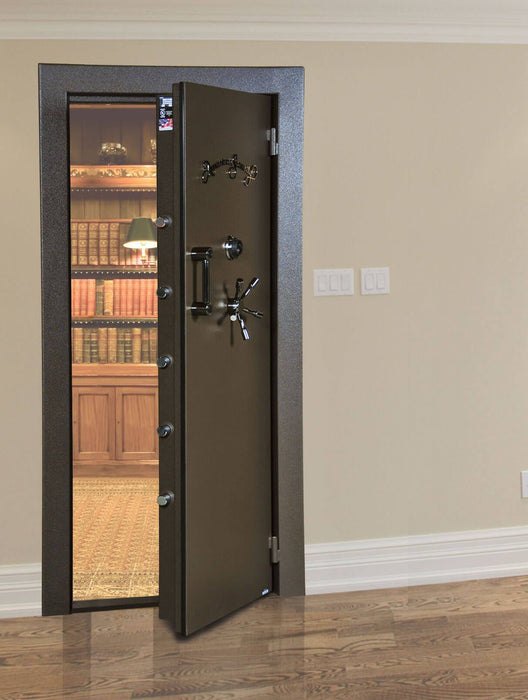 American Security VD8036BF - VAULT DOOR - DIAL
Description
A great alternative to buying safe after safe, is to buy one giant safe room in the form of a Vault Door. With a multi-function application including storm and natural disaster shelter, as well as a beautiful and secure way to store and display your most prized possessions, Vault Doors end up being the best bang for your buck when you have the collection to warrant them.
In terms of security, the American Security Vault Door VD8036BF has a two-inch thick door constructed with a 1/2" steel plate combined with 1" DryLight insulation. On the door lies a UL listed Group II lock with a spy-proof ring with the option to upgrade to an electronic lock. Behind the lock lies a tough hardplate and two relocking devices to ensure extra protection during an attack.
After the correct combination is entered and you begin to turn the beautiful five-spoke handle, you'll start feeling the ten 1.5" chrome-plated locking bolts retract. As you start pulling the door open, it will just glide on the commercial grade vault door hinges. On the inside of the door, you'll notice a Palusol expandable door seal that will assist in keeping both fire and smoke out.
Once fully inside, you can close the vault door completely as Amsec geniusly added a safety lock release on the inside that will allow exiting even if the door is closed.
This vault door retrofits into a standard 80" x 36" opening and is designed for easy installation. The new adjustable door frame slides together to fit a wall thickness of anywhere from 4.75" to 9.75".
These vaults come in a beautiful textured finish and with several different color options, you'll have no problem fitting this into any home decor.
The AMSEC Vault Door VD8036BF is backed up by AMSEC's No Cost, Lifetime Warranty against break-in, attempted break-in and fire.
Specifications
Wall Opening: 79-1/2" H x 35-1/2" W
Door Opening: 77-1/2" H x 31-3/4" W
Weight (Door Only): 819 lbs
Shipping Weight: 989 lbs
Adjustable Door Frame to Fit a Wall Thickness of 4-3/4" to 9-3/4"
1 Year Parts and Labor Warranty
Features
2″ thick door offers a defense barrier constructed of a steel plate (1/2″ on BF, 1/4″ on BFQ) filled with a fire insulation material that provides a barrier against extreme heat.
U.L. Listed Group II Lock with massive hard plate and two relocking devices.
Spy-proof key-locking dial with matching five-spoke handle, pull handle and bold zinc die-cast logo. Available in polished brass, chrome or black nickel finish.
10 massive 1½" chrome-plated bolts.
Select from four textured finishes.
Commercial grade, vault door hinges.
2 Stage dual fire seals with silicone seal on door jamb and expandable Palusol™ seal on door.
Adjustable door frame slides together to fit a wall thickness of 4-3/4″ to 9-3/4″.
Safety Lock Release: allows you to safely exit the vault room from inside. It also allows you to close and lock the door from the inside when equipped with an electronic lock, turning your vault into a safe room.