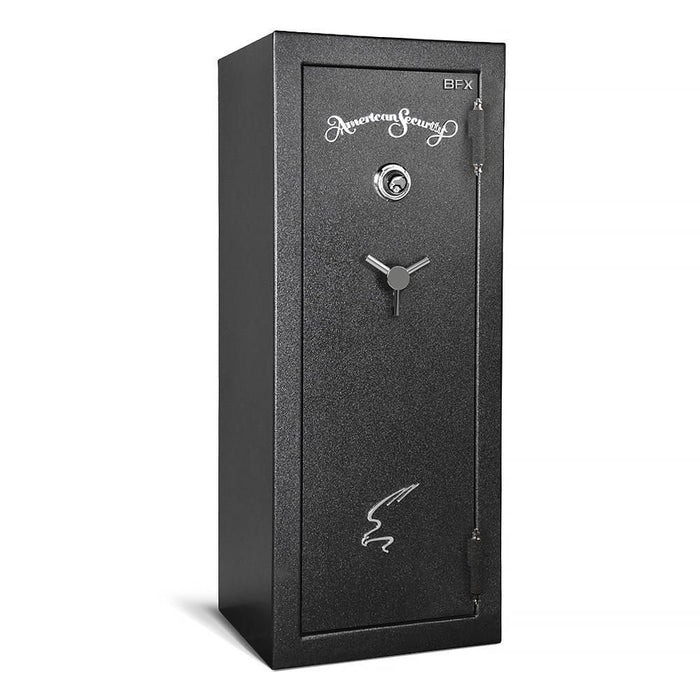 BFX6024 AMSEC | Gun & Rifle Safe | New 2021
 Description
American Security Products (AMSEC USA) has always had the high end commercial customer in mind making safes primarily for banks and establishments that need high security. Over the last decade, AMSEC has made their claim to fame in the gun safe industry with the almighty BF series by taking these commercial security aspects and introducing them into your everyday gun safe. New for 2020, AMSEC has taken the BF series to a whole new level with several new advanced security features making this the Best Made in USA Gun Safe in the Universe. Say hello the all new, AMSEC BFX Gun Safe!
The BFX6024 safes are considered the most unique gun safes in the industry with its 3/8" steel plate door combined with 1" DryLight insulation, 2" total wall thickness on all sides also filled with DryLight insulation and the body has two layers of steel, a 11 gauge outer steel liner and 11 gauge inner steel liner, for exceptional fire and security protection. With all that steel in the walls we end up with a total thickness of 7 gauge! New for 2020, AMSEC now has advanced independent locking bolt works that are sledgehammer and punch-proof with all individual locking bolts operating separate from each other on a 2-way gear driven boltwork locking system. On the AMSEC BFX6024 you get fourteen corrosive resistant 1.5" solid steel locking bolts that lock into a double reinforced steel frame making this the industry's best pry-resistant boltwork. 
The AMSEC BFX6024 has DryLight in between the steel of the walls and door, which is an advanced poured concrete insulation material that eliminates the use of gypsum board and creates a dry and seamless barrier providing ETL verified fire protection of 120 minutes at 1200°. It's proven to maintain interior temperatures of less than 350° and has 2 stage dual fire seals with a silicone seal on the door jamb and an expandable Palusol and Silicone seal on the door that'll keep the smoke out.
On the door of the AMSEC BFX6024 lies a U.L. Rated Lock of your choice and a decorative three-spoke handle in chrome, black nickel or brass. 
Once the correct combination is entered, the ultra smooth gear driven locking mechanism with increased handle rotation allows the door to open on the commercial grade, adjustable ball bearing hinges that can swing open a full 180°. As an additional feature, the handle will disengage under severe attack.
Once inside the AMSEC BFX6024, you'll first notice the beautiful mirrored back wall that provides increased visibility. Next you'll find the "All-in-One" interior that comes with two coverplates and 4 side shelves which allow storage on all sides of the safe. The included premium door organizer (PDO) maximizes storage space and offers quick access to commonly used items like passports, handguns and other important documents/valuables. There's also a standard built in internal AC power port with a removable external power cord that will allow you to charge your electronics or use a dehumidifying rod. The E-Z Slant-Out interior provides easy access to your long guns and the entire interior is upholstered in rich pin-dot fabric.
The 4 pre-cut anchor holes make this safe a breeze to bolt down and with American Security's "No Cost" Lifetime Warranty against theft & fire, you have the ultimate peace of mind. The American Security BFX6024 has a 5 year parts and labor warranty with a factory installed UL lock excluding paint.
Security

• 3/8"-Thick Steel Plate Door
• Four-Way Bolt Work
• Active 4x Locking System
• Dual Reinforced Door Frame
• 2"-Thick Body
• UL Level I RSC Burglary Classification (1-Man, 5-minute test. Utilizes tools typically found in a household)
• 14 massive 1½" Chrome Plated Bolts
• Pre-Cut Anchor Holes
Fire Protection

• Seamless DryLight Fill
• 120-Minute Intertek Verified Fire Rating
• Dual Door Seals to Protect Against Fire and Smoke
Add-ons

• Industry's Most Flexible Interior
• Premium Door Organizer
• Storage for Long Guns or Assault Rifles on Door
• Mirrored Back for Added Interior Visibility
• AC Power Outlet with Removable Cord
• Ultra-smooth Cam Driven Locking Mechanism
• Decorative five-spoke handle and a convenient pull handle
• Decorative Hinge Finials
• Available with Left or Right Swing Door
• LED Light Kit
Specifications
External Dimensions: 59-1/4" H x 24" W x 21" D
8-8-16 Gun + 1 Gun = 17 Total Capacity
Weight: 720 lbs 
Proudly Made in the USA
Dimensions
Outside: 59.25" H X 24.00" W X 21.00" D (Add 3" for handle)
Inside: 52.88" H X 20.00" W X 14.00" D
Interior Cubic Feet: 8.57
Weight:

 

720.00

Fire Rating: 2 Hours