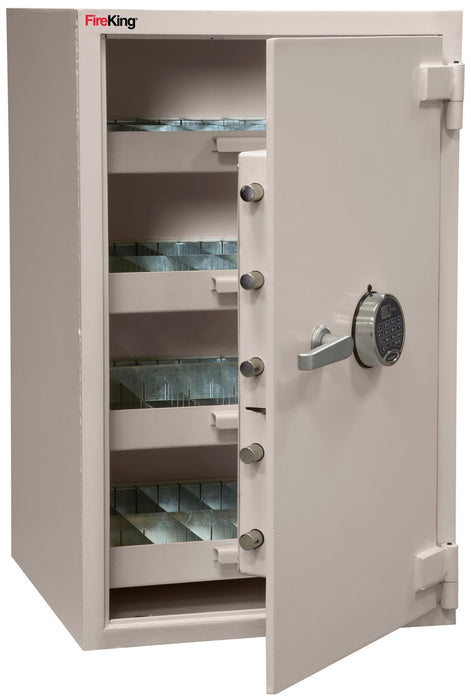 FireKing B3521WD-FK1 Pharmacy Safe | Narcotics Security
Pharmacy Safe robberies, burglary, and internal theft are becoming more and more common. The FireKing B3521WD-FK1 Pharmacy Safe allows you to securely store and control narcotic medications within a pharmacy or medical facility.
The security on the FireKing B3521WD-FK1 features a B-Rating which means that the door is a 1/2" solid A36 steel (sledgehammer and pry bar resistant) along with a 1/4" formed, full-welded body. There are 1" in diameter, chromed live locking bolts to prevent pry attacks. The auto door dent throws closed the bolts to the safe as you shut the safe door. This prevents employees from forgetting to turn the handle after shutting the door. A spring-loaded re-locker prevents bolts from moving if the safe is attacked. An FK1 digital lock comes standard.
The FireKing B3521WD-FK1 is a single door Pharmacy Safe that features 1 compartment. There are four pull out sliding drawers for organizational purposes.
Features
B-Rated Safe Body
1/2" Solid A36 steel doors, sledgehammer and pry bar resistant
Formed, full-welded 1/4" body
Interior floor holes to secure bolt down
1" in diameter, chromed live locking bolts
Auto door detent throws closed the bolts to the safe as you shut the safe door
Spring-loaded re-locker prevents bolts from moving if safe is attacked
Adjustable, ball-bearing hinges for easier open/close of the door
Scratch-resistant, hammer-tone gloss finish
Four pull out sliding drawers
Weight: 350 pounds
SmartLogic FK1 Electronic Locking System Features
UL Listed, Type 1 high-security electronic lock
LCD screen for easy programming
Multiple registered users
Programmable time delay and time window
Penalty lockout
Single or dual control modes
Standard footprint for easy retrofit
Dimensions
Outside: 35.00" H x 21.75" W x 22.00" D (Add 2" for handle)
Inside: 34.50" H x 20.75" W x 17.67" D
Interior Cubic Feet: 7.32
Weight: 350.00
Burglar Rating: B-Rate