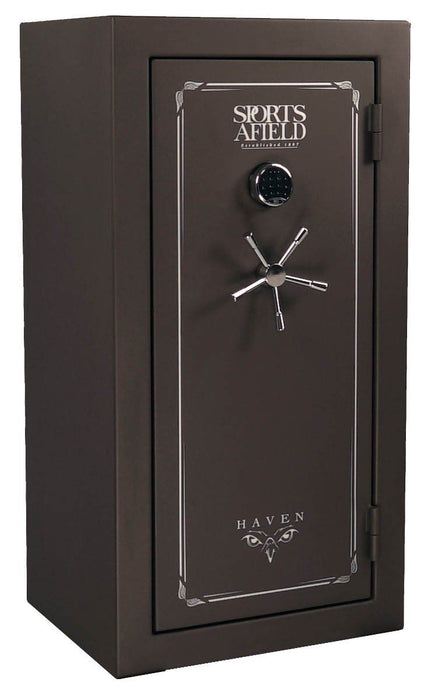 Sports Afield Haven Gun Safe SA5930HX | 36 Gun Safe
Description
Venturing further into any wildlife habitat will eventually lead to areas that are seemingly impenetrable. It is in these places that only the most cunning of creatures such as the mountain lion and birds of prey can call home. With a watchful eye looking over your most prized possessions, the Haven series of safes, enhanced with fire and water protection and ultimate organization, brings you that much closer to total protection. Go away for a weekend and come back to a flooded basement or even worse get a frantic call from your neighbor letting you know your house is on fire. Rest easy knowing that a watchful eye is looking over your possessions. This safe not only sports increased steel thickness and bolt count, but fire protection for 75 minutes at a blistering 1400oF. All the while, our proprietary Triple Seal maintains a waterproof seal keeping your valuables dry for a full 7 days at a water height of 2 ft. A UL rated power outlet allows the use of your favorite anti-humidity device to be used. Your guns and accessories will never be more organized or accessible with the half U-shaped, half rack- style adjustable gun rests and deluxe style door organizer.
Features
Fire protection for 75 mins at 1400°. Proven to maintain interior temperature of less than 350 degrees.

Water Proof for 7 days in up to 2′ of water.

Electronic lock – programmable and illuminated.

Override keys included – allows dual entry into gun safe either via electronic lock or override key

California DOJ approved.

10 large 1.5" steel bolts.

Chrome 5 spoke handle.

Exterior dimensions: 59"H x 30"W x 25"D

Weight – 567 lbs.

Triple Seal

Color: Black – Dark Earth Matte.
Specifications
Carpeted interior and sidewalls.

Deluxe Door Organizer maximizes storage space and offers quick access to commonly used items.

Single UL approved power-outlet.

Gun Capacity: 36 + 4.

Fully adjustable shelving.

One top shelf and three side shelves.

4 pre-cut anchor holes.
Dimensions
Exterior dimensions: 59"H x 30"W x 25"D

Weight – 567 lbs.